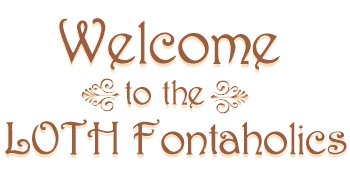 Soooo....you say you are addicted to fonts...then you have come to the right place. Go grab a cup of coffee or tea, sit back and enjoy what you find within these pages. If you run into any snarls or snags along the way (i.e.: broken links), please contact me and let me know.

Ok...here comes the quick info plug...can't have a site without it *grin*. LOTH Fontaholics was an idea that blossomed in my mind one night when reading over the message board. I know that many of us love to create and play with graphics....along with that comes the never ending search for bigger and better fonts.
The general idea here is to provide a one-stop place for all the sisters to come and find that perfect font. I am starting these pages with the fonts I have in my collection, but would love for all of you to contribute. If you have a font that is not listed here....please send it to me via email and I will add it. With the help of all you fontaholics out there...we can make this the best font site yet. Please do keep in mind that this page is for LOTH sisters only, it is not public domain.
Ok...enough gab....onto the fonts *giggles*.

Fonts
A B C D E F G H I J K L M N O P Q R S T U V W X Y Z

What's New...if you've been here before, you might want to click here!!
Looking for a particular font? Click here to search.
*NEW* Want to send some fonts in to us, but don't have the time to go thru the entire site and compare it with your fonts???? Click here for a printable check list of all the fonts contained in this site!!! Thank you Deanna for this wonderful idea!!!!
Please note that all fonts are True Type for PC only. Click here to download a TT Converter for Macintosh (50kb). This utility will convert from PC to Mac.




Click to subscribe to LOTH Fontaholics and be updated of changes and additions to this site!!!

Please sign the guestbook before you go! *Service provided by Dreambook*
You are fontaholic number


to grace us with your presence *S*.


Copyright ©1999 LOTH Fontaholics. Please do not use the graphics within these pages, they were made exclusively for this site. If you would like graphics for your homepage, please visit Cytherean Designs. All of the fonts contained on this site were found on various places on the web, and are believed to be of public domain. If anything contained here is previously copyrighted please contact the webmistress and it will be removed ASAP.

Last Updated On: February 25, 1999